MAK Transportation is a fully licensed, insured, bonded carrier that specializes in Heavy Haul transportation throughout Canada and the United States.
We have the latest in low-bed equipment ranging from 5 to 9 axle combination RGN's with varying deck lengths and widths. We will handle your oversize and overweight load, as well as any smaller less-than-trailer-load needs.
We pick up and deliver site-to-site 24 hours a day, 7 days a week. We also cover port to port transportation for your overseas shipments.
Our drivers are all experienced in handling your transportation needs, and are certified through the U.S. Alcohol and Drug Act program for loads going to the U.S.
MANAGER
Kelly Ficociello - This email address is being protected from spambots. You need JavaScript enabled to view it.
Kelly has been active in the trucking industry since 1981. Having driven highway haul, worked in freight sales and dispatch, her expertise, industry knowledge and energy make her well equipped to assist with all of your trucking needs. Starting MAK Transportation in March of 1994 was a natural step for Kelly given her strong work ethic and attention to detail. She has continually built and developed a steadily growing customer base since incorporation. Kelly believes that honesty is the key to her success.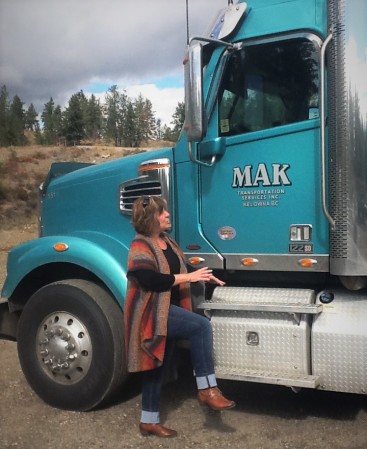 KELOWNA, B.C. – Finished with school after Grade 8 with nothing more than a passion for truck driving in her soul, Kelly Ficociello's journey to MAK Transportation Services was far from easy.
Hitting the open road with her father until she was 19 and finally able to get her own Class 1 licence, it was driving that first got Ficociello excited about the industry, but being a woman, there were speed bumps along the way.
"I got my licence and no one would hire me," Ficociello said. "Back then it was very hard to get a job as a woman, so I ended up having to buy a truck off my dad and then I got lots of work."